Martin Luther King, Jr. Marade
January 17, 2022
Trinity, Littleton, and St. Luke's United Methodist Churches participated together to commemorate the life and legacy of Rev. Dr. Martin Luther King, Jr. at Denver's event January 17th with speakers at City Park and Civic Center Park and a marade (march and parade) between . We honor Rev. Dr. Martin Luther King, Jr. for his courageous response to the call he received as a Christian minister to confront racism. And we take inspiration from his tireless efforts in our call as a Christian community to work for equity among all people.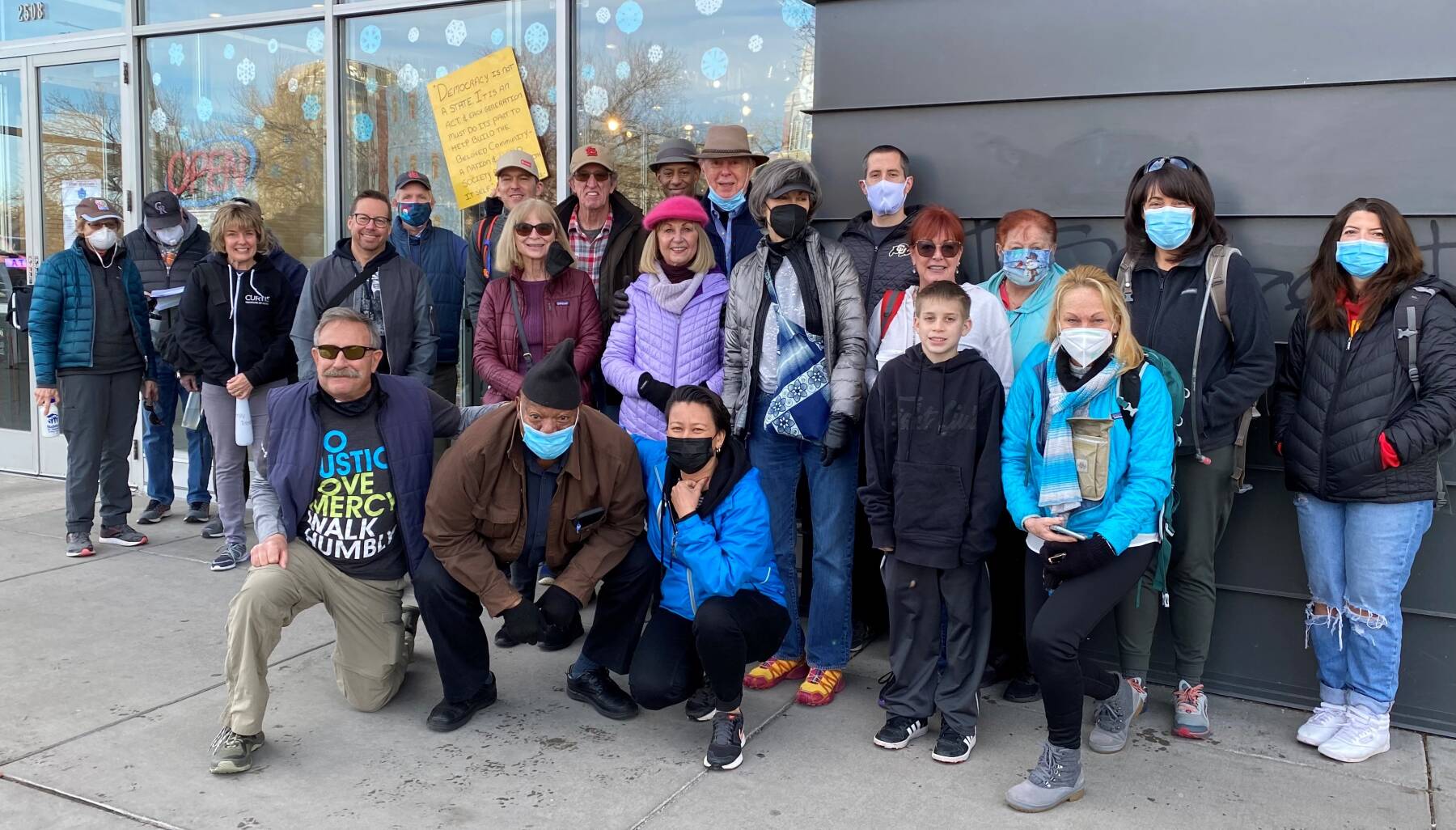 ---
Denver Dinner and Dialogue Series on Race
The inaugural Denver Dinner & Dialogue Series on Race that was hosted by Trinity UMC beginning September 14th recently concluded. This was a multi-ethnic series of conversations on race, guided by a Department of Justice curriculum and Dr. Alphonse Keasley, former Associate Vice Chancellor in the Office of Diversity, Equity and Community Engagement at CU Boulder. Check out the 9NEWS (KUSA) coverage and look for more opportunities to engage with us in this work in the coming months!
9News interviewed Pastor Ken Brown and Ministry Director Deb Meyer this spring about our work in anti-racism. Here's the link to the segment aired May 16, 2021: https://m.youtube.com/watch?v=TT1-4-mLljw
---
Anti-Racist Allyship: Listen. Learn. Act.
Ally: Someone from a non-marginalized group who uses their privilege to advocate for the marginalized group. They transfer the benefits of their privilege to those who lack it.
Trinity's Anti-Racist Allyship formed out of a small group that met initially on June 1, 2020 as a faithful expression of God's call on people of faith to listen, learn and act to create and support racial equity in response to racial injustice toward BIPOC (Black, Indigenous and People of Color) locally and nationally in ongoing acts of violence as well as unequal access to healthcare, housing, education, healthy food and employment/business owner opportunities.
Watch Pastor Ken Brown in this nationally broadcast news story (click here) filmed at downtown Denver's Peaceful Protest May 30, 2020. Please use these resources for listening and learning, watch Trinity's Facebook page and weekly email for opportunities to act. Contact Deb Meyer with questions. This page is always developing so check back for new information. Thank you for being part of the movement.

Anti-Racist Allyship Learning Community
Join weekly conversations that nurture both growth in cross-racial relationships and action that expands racial equity with others committed to learning, action and community as we seek to grow in anti-racist ways of thinking and being! Contact Deb Meyer for the zoom link!
Anti-Racist Allyship Immersion Experiences and Advocacy Actions
Watch our Facebook Page for immersion and advocacy opportunities and Subscribe to emal HERE.
Photo(s) by: Sara Cassidy & Deb Meyer
EXPANDING BLACK INFLUENCE
This webinar was held on November 16th at 7pm which featured a panel hosted by Pastor Ken Brown, Senior Pastor at Trinity United Methodist Church. The discussion helped gain understanding of access barriers encountered by Black business and non-profit leaders as well as discover actions that we all can take for greater racial equity in your community.
For more information and to give to the AMPLIFY fund, click HERE.
Additional Resources:
General Books:
How To Be An Antiracist by Ibram X. Kendi
A Credible Witness: Reflections on Power, Evangelism and Race by Brenda Salter McNeil
The New Jim Crow: Mass Incarceration in the Age of Colorblindness by Michelle Alexander
Just Mercy by Bryan Stephenson
The Color of Law: A Forgotten History of How Our Government Segregated America by Richard Rothstein
Overground Railroad: The Green Book and the Roots of Black Travel in America by Candacy Taylor
White Rage: The Unspoken Truth of Our Racial Divide by Carol Anderson
Waking Up White: And Finding Myself in the Story of Race by Debby Irving
Books For Kids:
General Articles and Reading Suggestions by African Americans:
Anti-Racist Allyship
Films:
Dear White People
Just Mercy
Becoming documentary
13th documentary
I Am Not Your Negro documentary
Podcasts:
YouTube Video:
YouTube Music: